Just got back home yesterday morning after a great trip to Alaska. We climbed the West Buttress but unfortunately didn't get on the Cassin ridge which was one of our main objectives; however we summited Denali in less than half the average time with very little training and came home in one piece so definitely a successful expedition!
Our trip started months ago with lots of planning and kit preparation. This was quite challenging as I was in Antarctica and Mark works off-shore on oil rigs all over the world. Anyway we got there and when I arrived home I was greeted with box loads of new gear to un-pack and check.
Mark and I only managed to meet up a week before flying to Alaska and we spent a whole day discussing what to take and trying to pack everything into 3 duffle bags and one ski bag… another similar scene to the one above!
Finally we felt like we were ready…well apart from the fact that neither of us had managed to do any real training that is.
Mairi gave us a lift to Glasgow airport on the 21st of May and we began leg one of three to reach Anchorage. We weren't off to a great start and missed our connecting flight from Newark Airport to Seattle. Not to worry though, United Airlines re-routed us through Denver,Coloradoand eventually we made it to Anchorage at about 2230 the same day. We had quite a tight schedule as the next day we had a meeting with the Denali National Park rangers at 1300 so we were forced to head straight to the 24 hour Walmart and start our food shopping for the trip. This resulted in a very late finish to the day - and some random food purchases!
The next day; day 1 in Alaska, involved a quick visit to the outdoor shop REI and to AnchorageSatellitephones followed by the 2 hour drive from Anchorage to Talkeetna. Once in Talkeetna we went to a meeting with the national park rangers to discuss our plans and to collect a little green tub to shit in…
Day 2 saw an early start and time to weigh all our bags at the airstrip then fly into the Kahiltna International Airport - Denali base camp! Once at base camp we checked in with Lisa; the BC manager, who gave us our fuel for the trip. We had initially planned to spend one night at BC to relax, pack our sledges etc before heading off but we strayed from the plan, something that was going to become a bit of a theme for this trip! Instead as the weather was so nice and we had arrived at BC earlier than expected we just set off with the goal for the day being to reach the 7800 foot camp and the Northern end of the Kahiltna Glacier. This section of the trip was 5.5 miles long with minimal height gain. In the heat of the day with heavy sledges and rucksacks (total of roughly 130lbs / 60kg each) this was a tough day! We both arrived at camp 1 feeling pretty knackered. Maybe this was because of a delayed jet lag from our travelling or maybe it was just through a complete lack of training!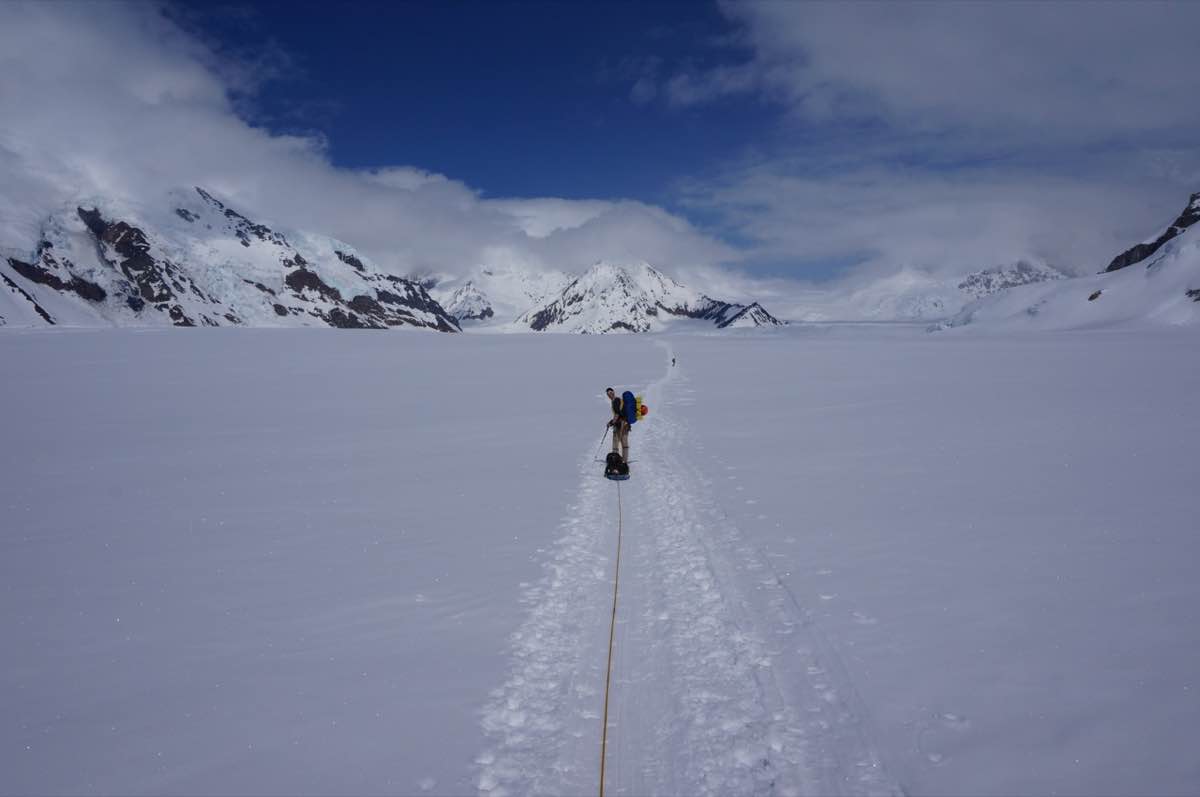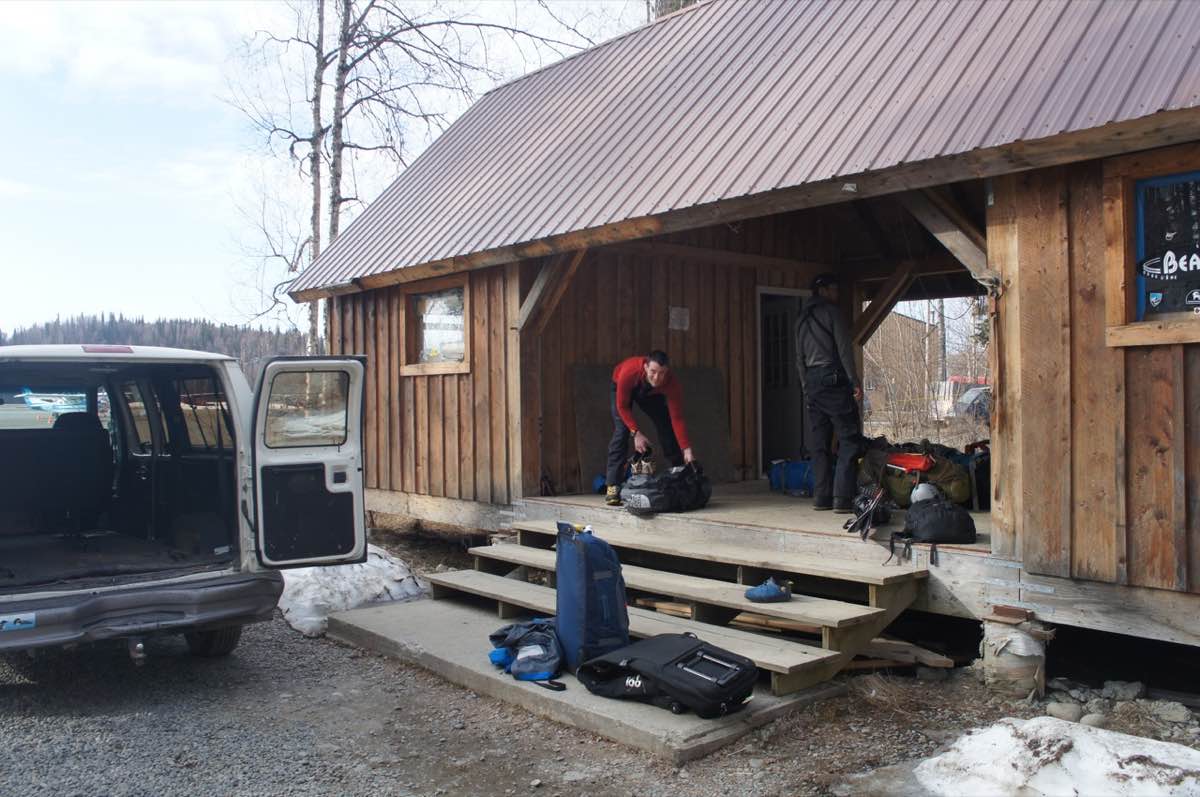 The next day; day 3 - we decided that we would double carry our gear from 7800ft camp to camp 2 at 11000ft. Double carrying means taking half your gear up the mountain, stashing it and then returning to your original camp for a night before moving the remaining gear to the next camp. This tactic works really well foracclimatisingat altitude as your adopting the climb high, sleep low principal, and it is more practical when trying to move heavy loads.
Day 4 - we packed up the remainder of our camp at 7800ft and moved on up to 11000ft. Once at camp 2 my head began to feel fairly sore. This was possibly the effects of the altitude or perhaps just a bit of dehydration from the day.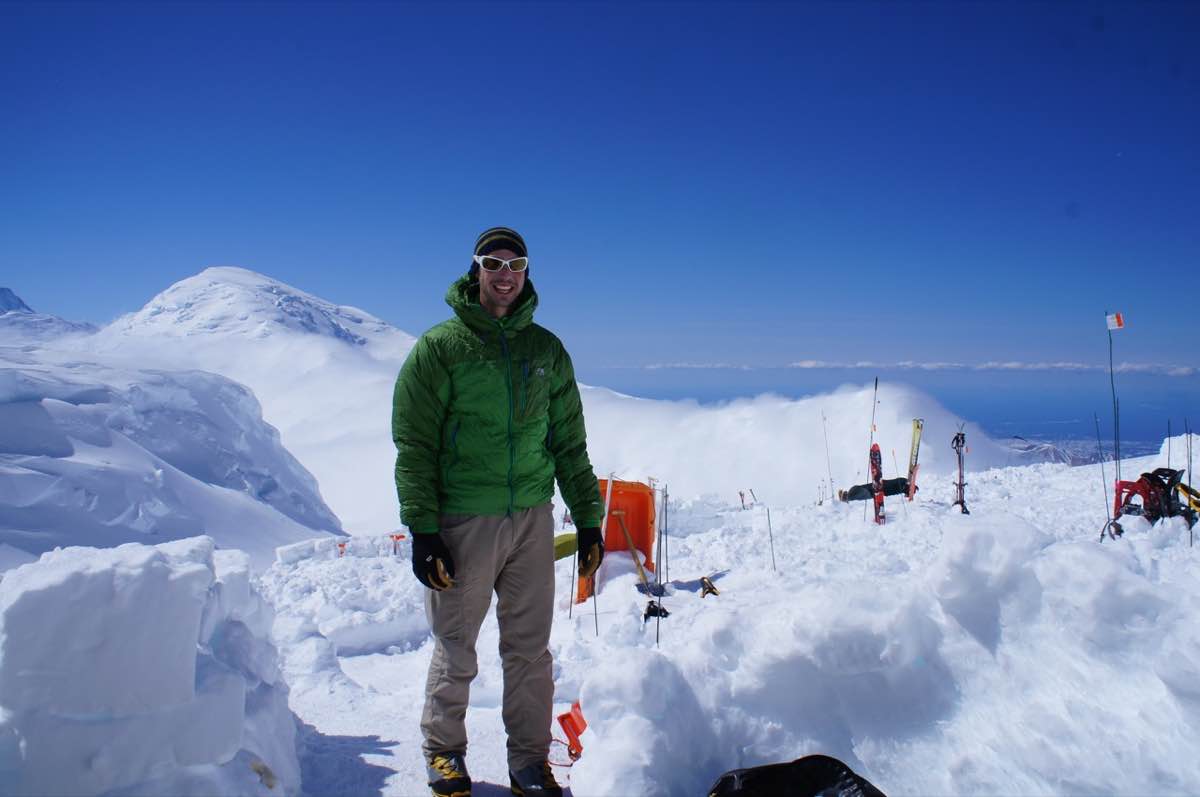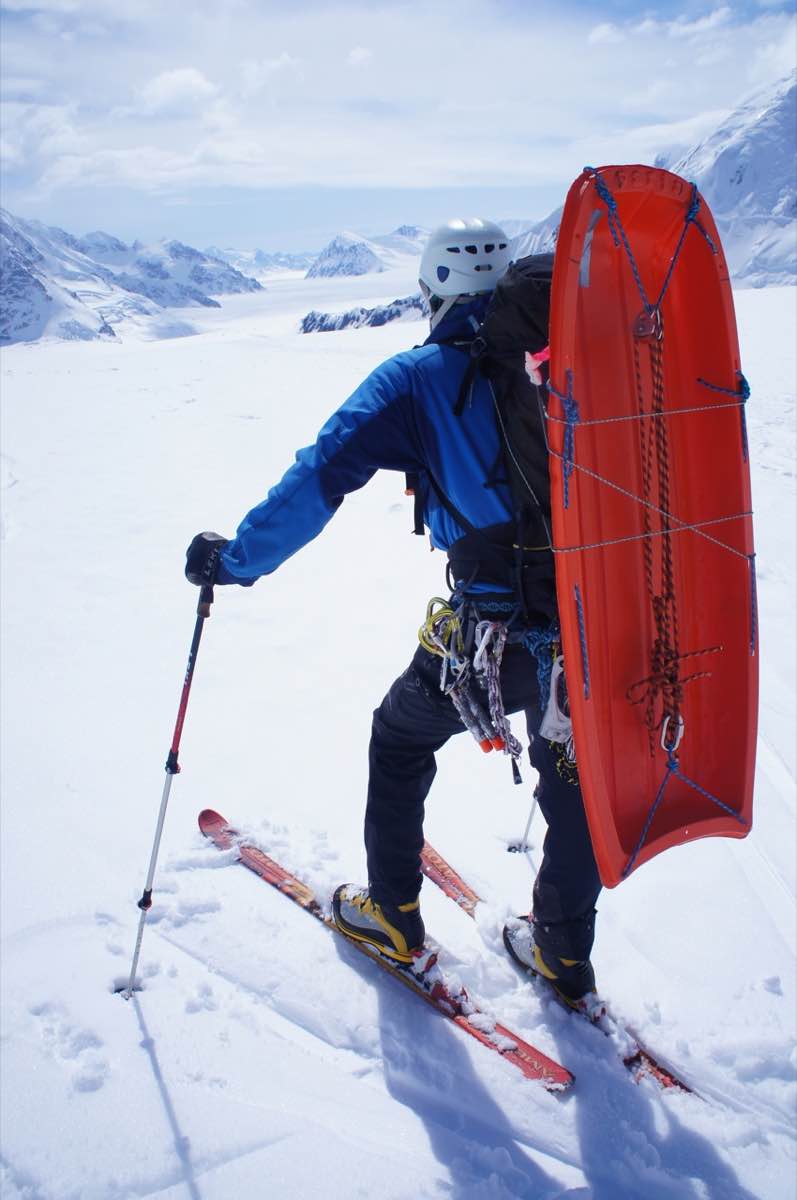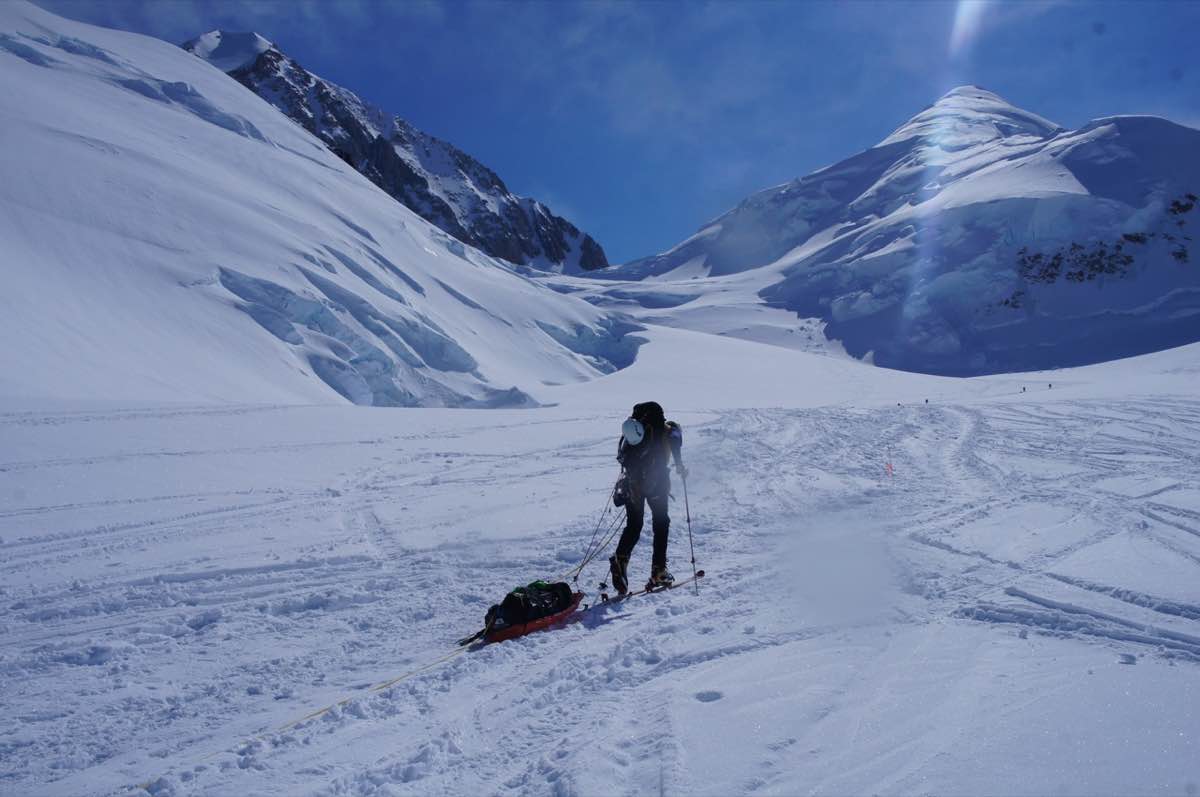 Day 5 - Once again we deviated from our plan slightly, having said that this day would be set aside for rest. Instead we chose to take full advantage of the good weather by taking the first load of kit fro 11k to 14000ft camp - advanced base camp. It's at this section of Denali that the route begins to feel like a mountain. You encounter the first section of steep ground going up "motorcycle hill", followed by "squirrel hill" and then round the relatively safe but unpredictable section of "windy corner".
Due to the shift in terrain from gentle glacier to steep hills we depoted our skis at 11000ft camp and switched to crampons. We made good time from 11k to 14k so spent a couple of hours at 14k letting our bodies get used to the decrease in oxygen at this height and pitching our secondary tent to stash all our gear in before dropping back down with light packs and empty sledges to 11k once more.
Day 6 - this one had also been pencilled in as a rest day, and this is how it started. However after having a lovely lunch of bagels and cream cheese we felt good and were keen to make the most of the continued nice weather. We packed up the remainder of our gear from 11k and moved up to 14k. This time round upon reaching 14k I felt pretty rough, my head was really pounding - definitely altitude kicking in. This was not surprising as once at the 14000 foot camp you are at a similar height to the Matterhorn, although with Denali's far northern latitude (63 degrees) the air is much thinner than on mountains of equivalent heights closer to the equator. As a guide people say that the levels of oxygen on Denali's summit of 6193m is the same as being at 6900m in the Himalayas (so I've read!).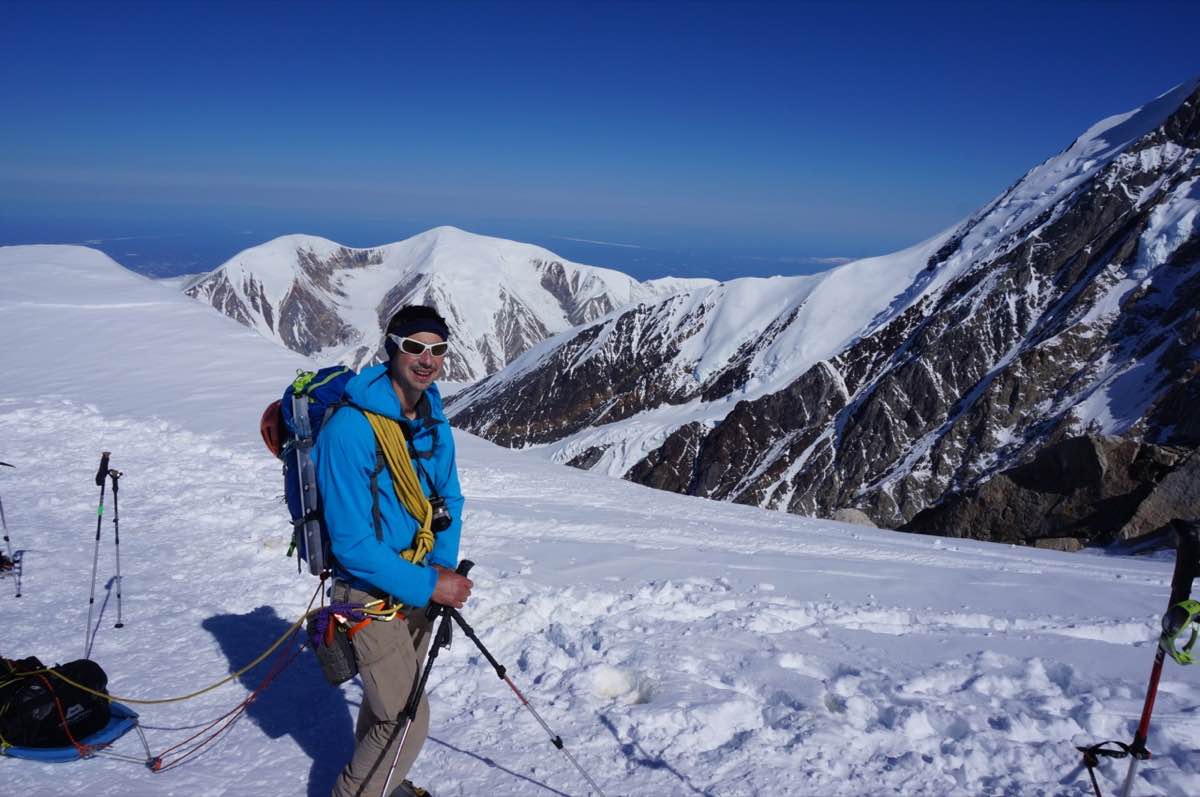 Day 7 - finally we stick to the plan of having a rest day…sort of! We had a long lie and then started to build some snow walls around our tent to protect it from any high winds. We also dug a shelter for cooking in.
Day 8 - We had considered several different approaches for summit day. The first being a single push all the way from 14000 foot to the summit and back to 14000 foot in one day. This is obviously a very big day but if your fit enough to do it is definitely a good option as it saves you spending a night at the uncomfortable and exposed 17000 foot camp. If doing things with this approach we would need to first acclimatise by visiting 17kfor a day and then descending back to 14k for a night before considering a summit bid. The weather was still holding so we made the choice to take light packs to 17k, spend one night there and then go to the summit and back to 14k the following day.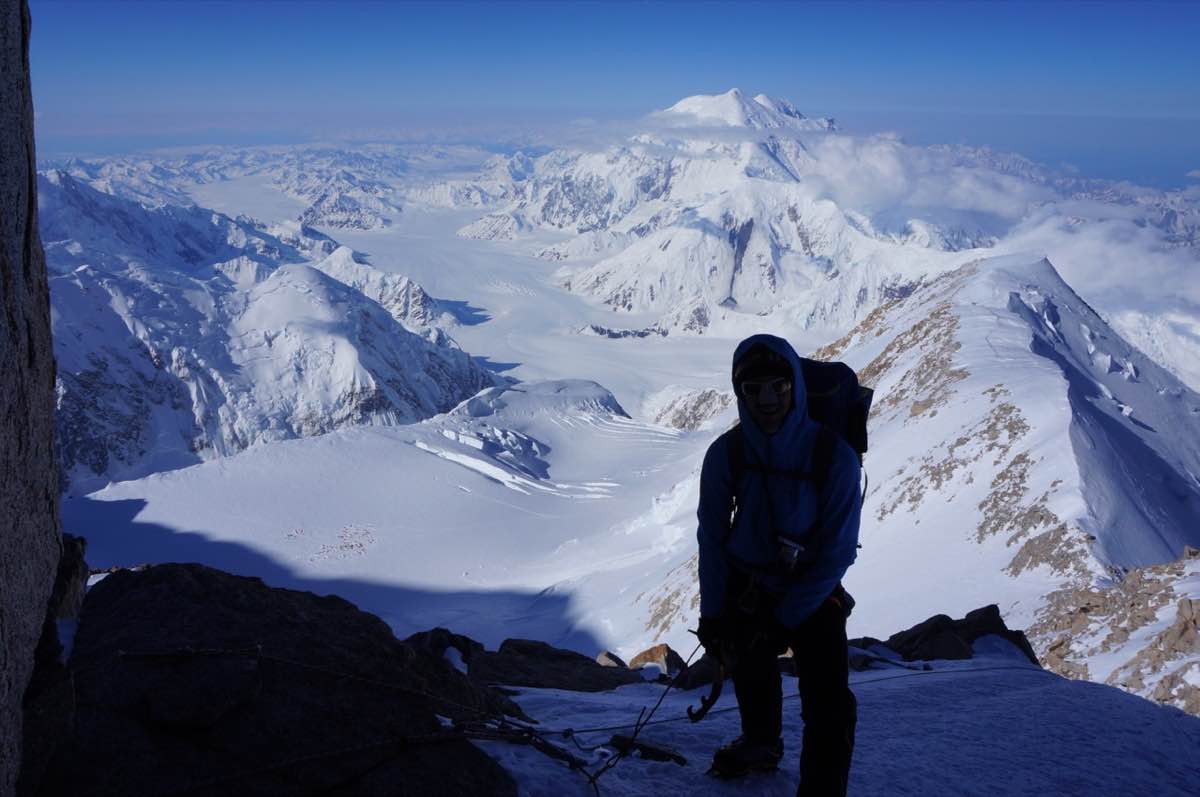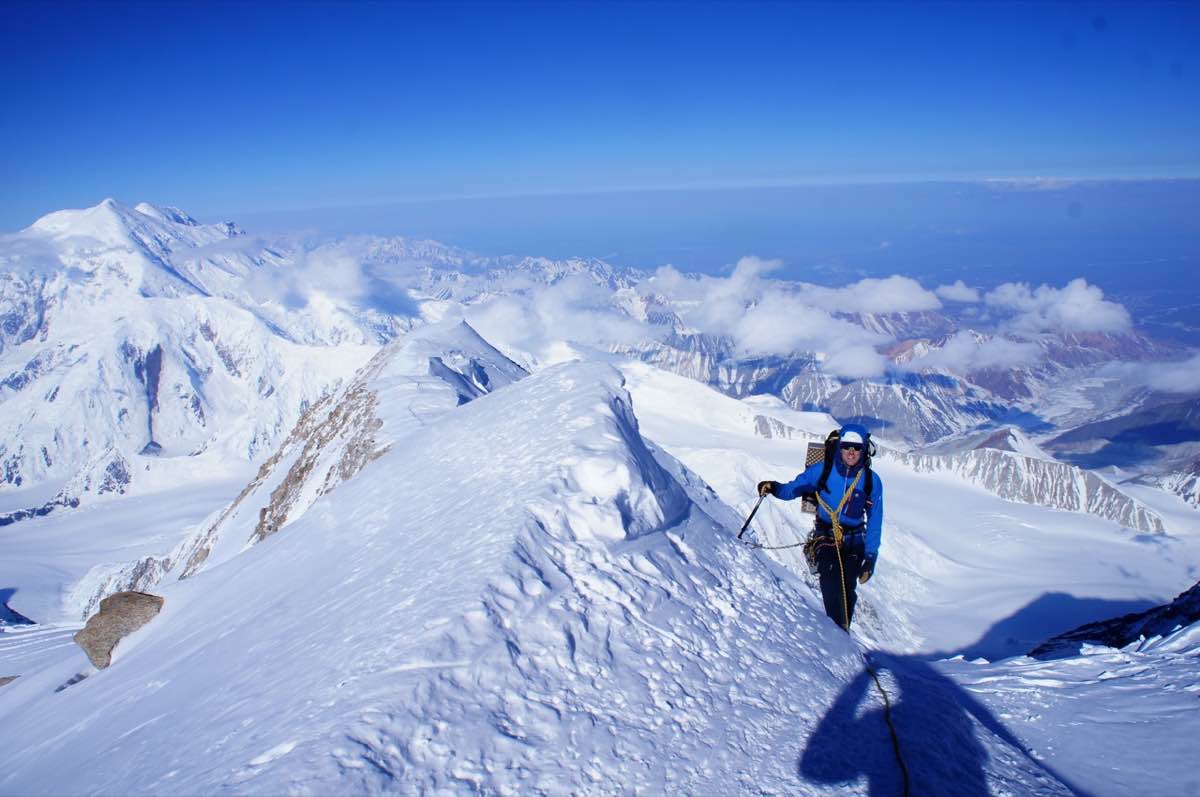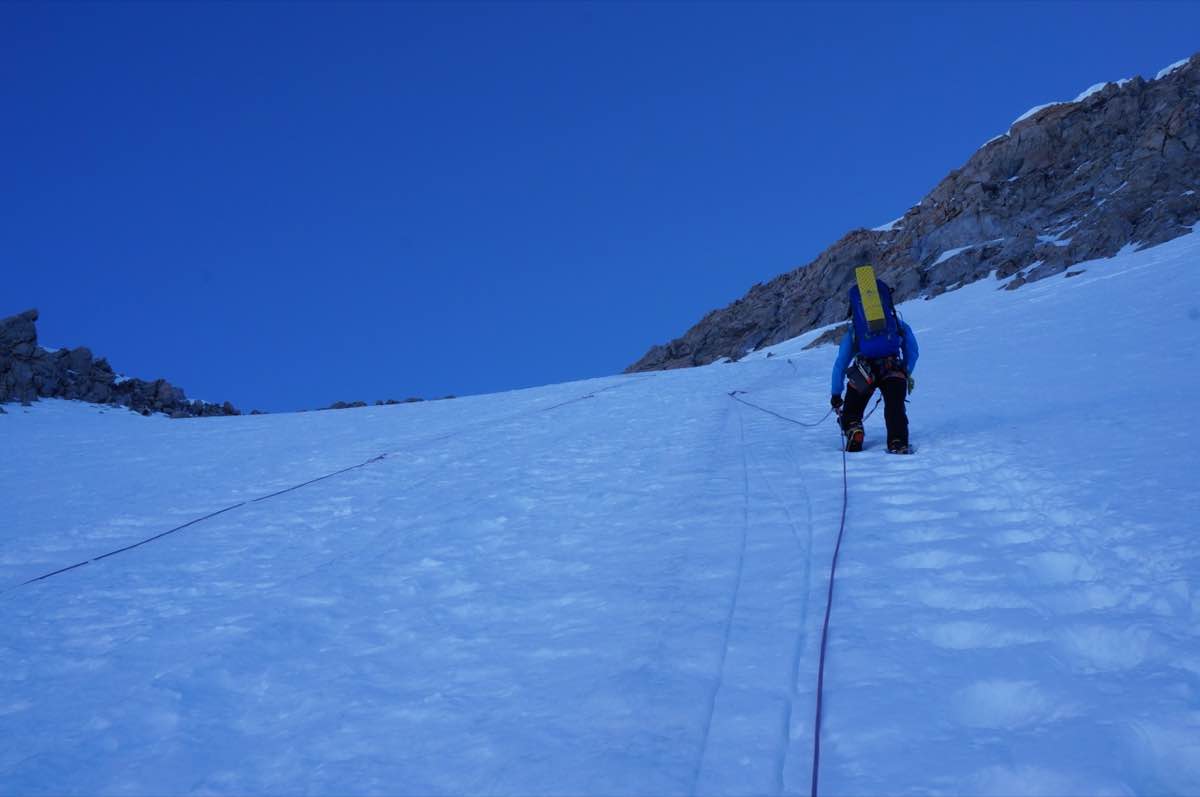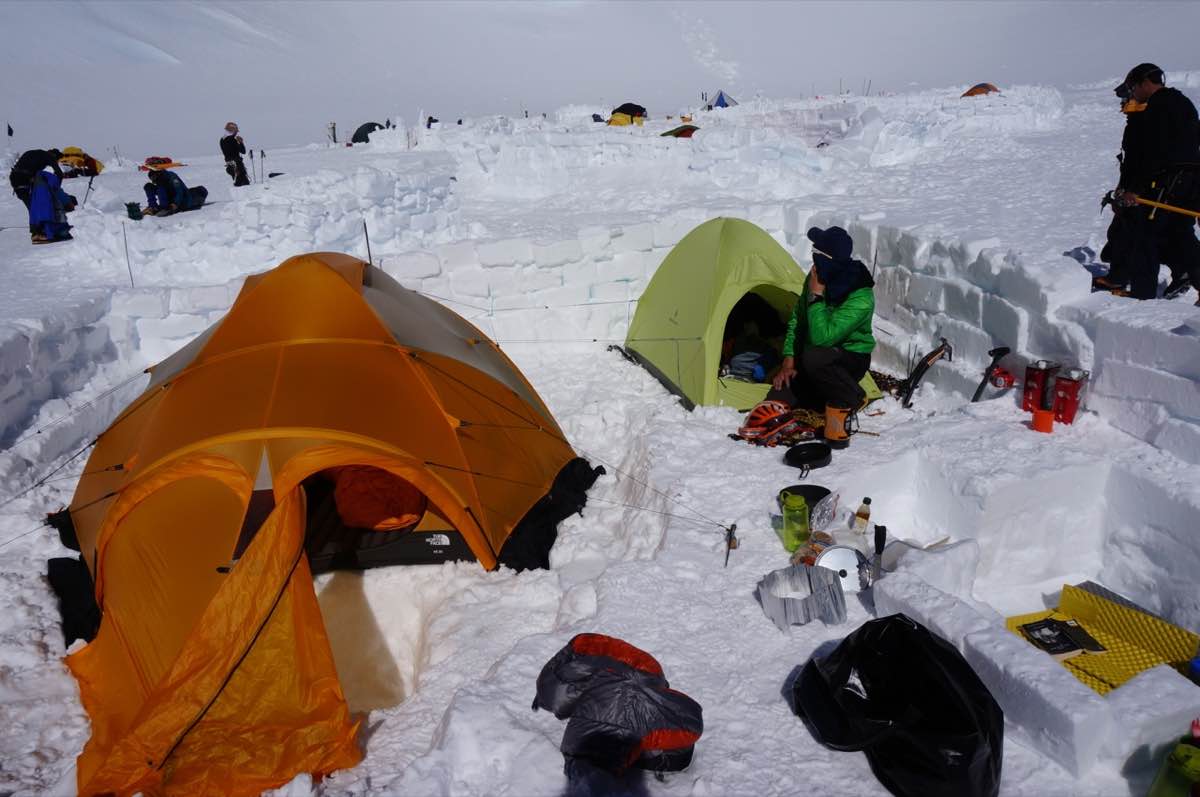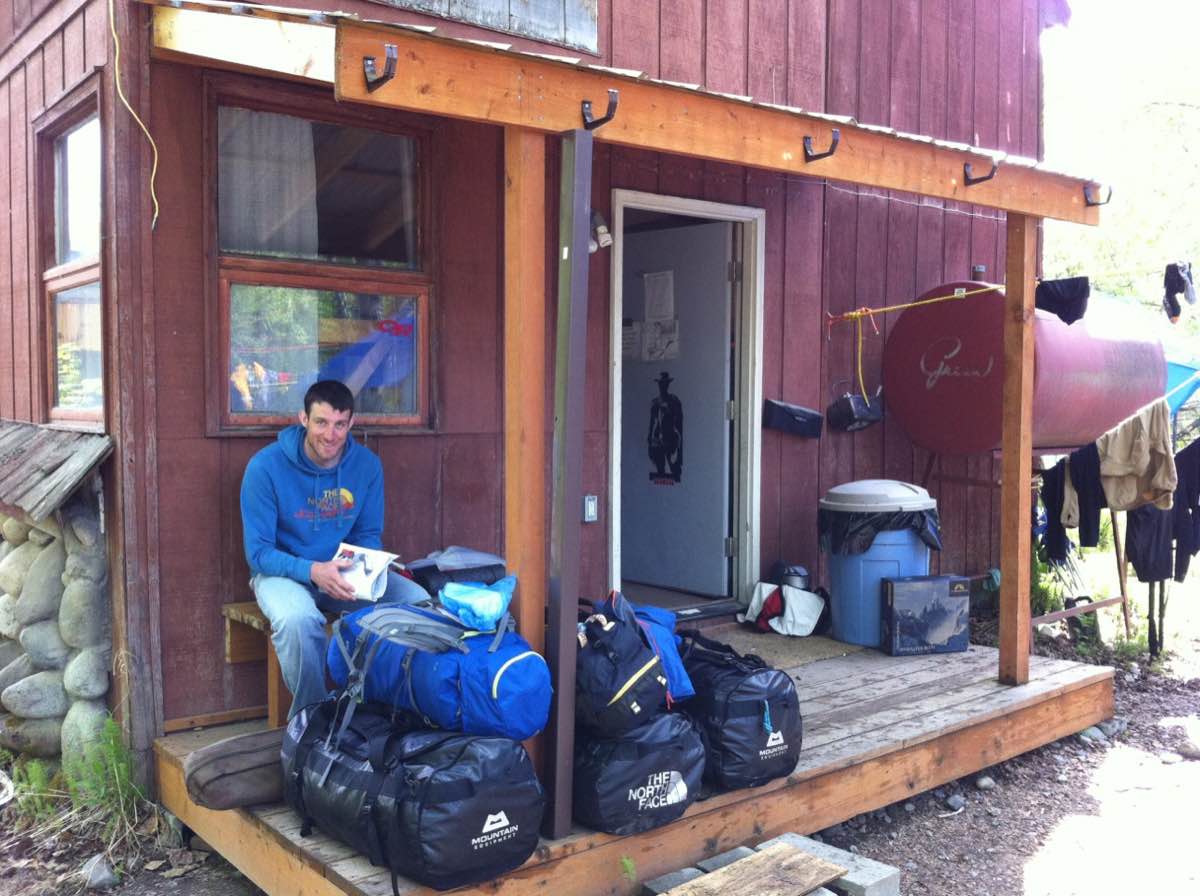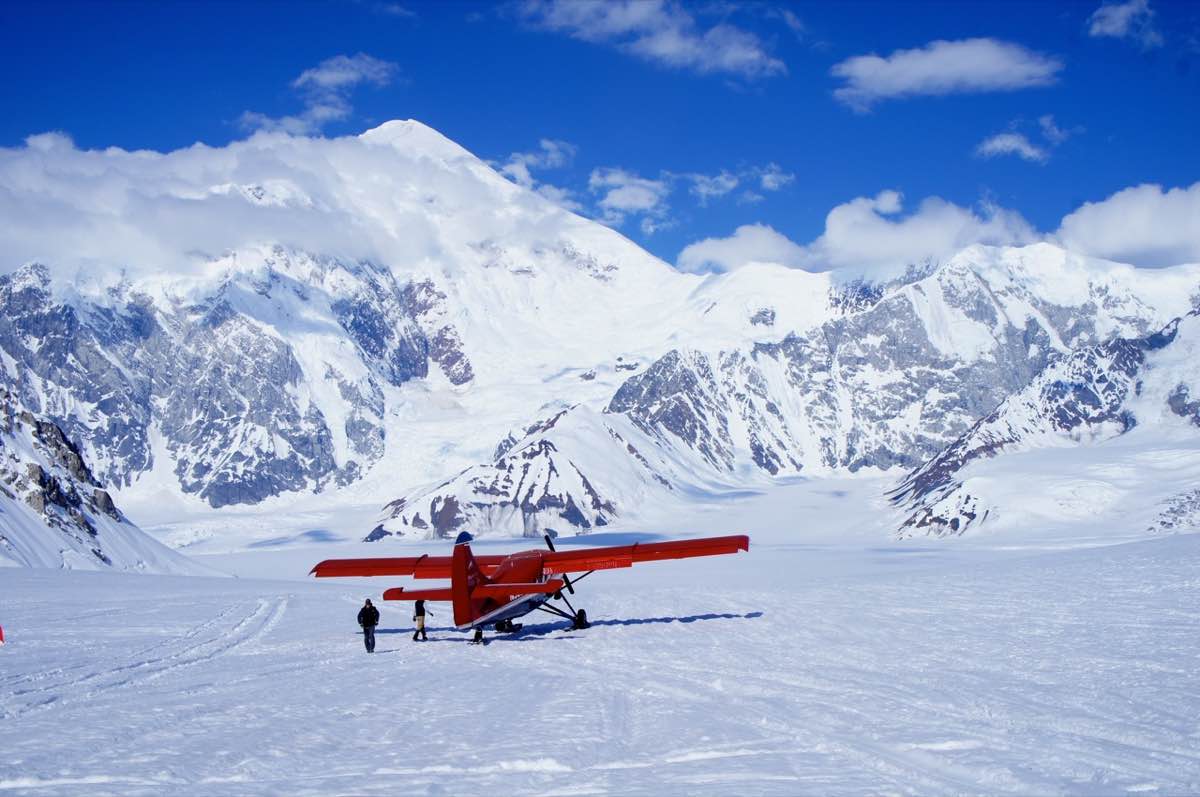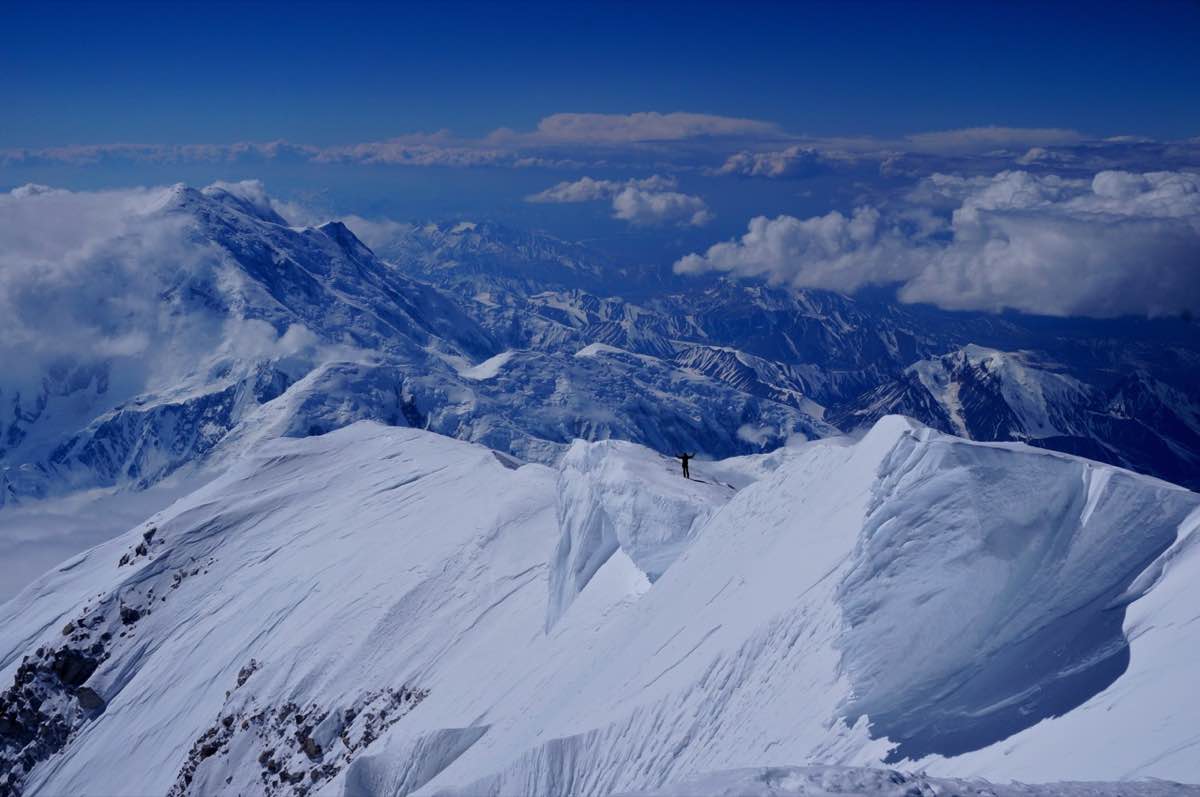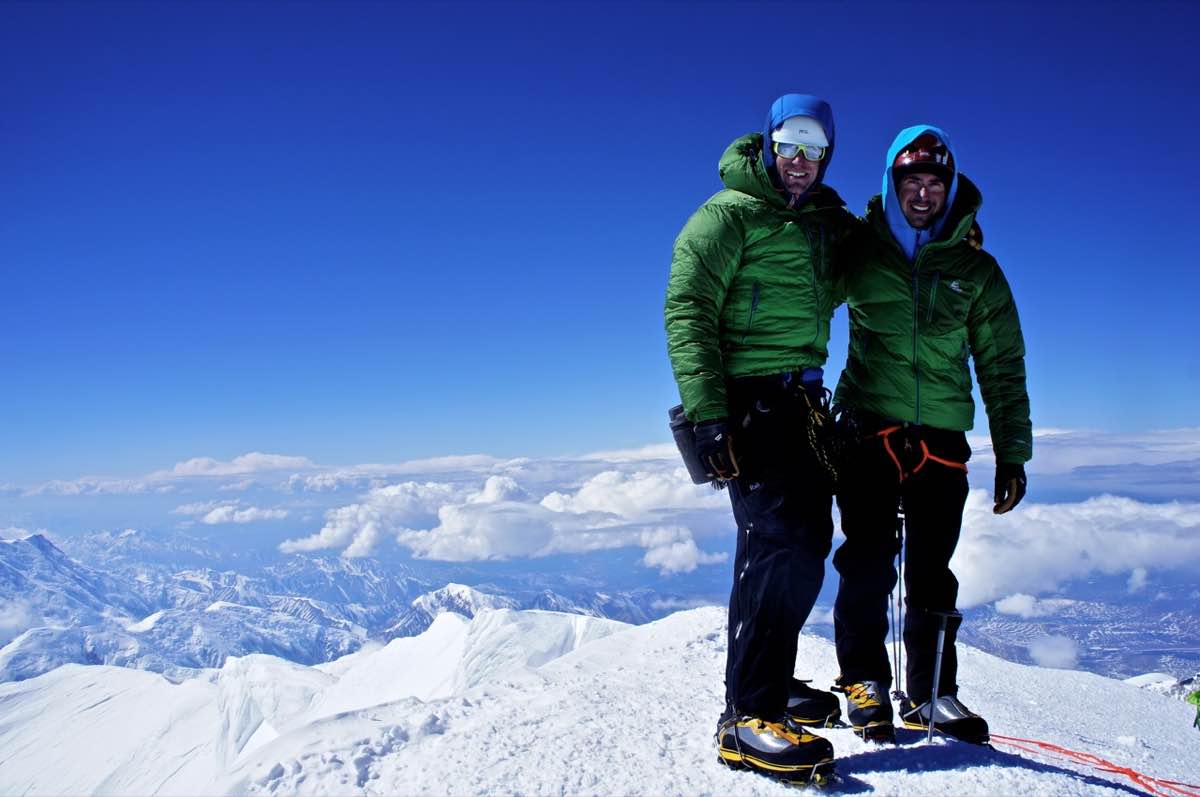 So day 8 of the trip, we left 14k early to beat the crowds onto the fixed ropes and headed up to the 17000 foot camp. This section of the climb was by far the most interesting and enjoyable section of the West Buttress route. After ascending the fixed ropes you get stunning views back down to 14k foot and if you get weather like we had you can see the whole way down the Kahiltna Glacier and surrounding peaks. The ridge itself is beautifully exposed but never difficult (Scottish II) and takes you straight to the camp at 17000 feet. We arrived at 17k early and after considering "just going for it" to the summit that day we both decided we were pretty tired and feeling the altitude so crawled into out cramped light weight tent and slept!
Day 9 / day 8 on the mountain - we left 17k early to beat any potential crowds on the "autobahn" section heading up to Denali pass and made our way to the summit. It was hard work moving above 18000 feet due to the altitude but once again the relatively calm and sunny weather helped out a massive amount. From 17k we reached the summit in just under 5 hours. We enjoyed stunning views all around, I then gave Mairi a quick call on thesatellitephone (not realising it was nearly 1am back in the UK and waking her and her Mum up…sorry!) before descending back to 17k. We had left our tent up at 17k so that if we were really knackered we had the option of crawling back into bed but when we arrived we felt fine. After packing our kit up we headed back down the ridge and onto the fixed ropes to descend into 14k. It was an early night for us after a quick meal.
Day 10 and our first day of less than perfect weather, the sign of things to come! We had a relaxing morning and the began to slowly pack up all our gear in preparation for returning to base camp. We left 14k at 1500 and arrived back into BC at mid-night.
Day 11 - 10 days since arriving on the glacier we jumped on a single otter aircraft and flew back to Talkeetna for a well earned beer and burger at Denali Brew co.
So the Cassin ridge… this had been our main objective for the trip, with the West Buttress being planned as a warm up/acclimatisation route. We had planned to be on the glacier for a lot longer than 10 days. We didn't attempt the Cassin for a few reasons… firstly the un-usually good weather had resulted in a lot of mini avalanches and debris falling from the faces, especially south facing ones! - this made me un-easy. Secondly we had spoken to a few teams who had tried and backed off due to warm conditions/poor quality ice. and thirdly having only been home 4 weeks after 17 months in Antarctica I was more than happy and content with summiting North Americas highest mountain and returning home early was a nice idea! Now that I'm back home (enjoying sunshine in Scotland!) I don't regret the decision at all, hopefully Mark isn't too disappointed. The Cassin ridge isn't going anywhere and it's still on the list for another time!
My next trip is likely to be a road trip to the alps in my new van - once I finish/start converting it to sleep in. At the moment the plan is to head to Zermatt with Mairi at the beginning of July to climb the Matterhorn and have some other adventures in the mountains.